After the Intergovernmental Panel on Climate Change (IPCC) identified this decade as the final window to counteract catastrophic climate effects, 2020 saw a global explosion of private and public entities signing onto bold climate action commitments. Here, we dissect what these organizations are now up against and what it will take for them to successfully deliver on their carbon commitments.
BUT FIRST, WHAT EXACTLY ARE WE TALKING ABOUT WHEN WE TALK ABOUT CARBON COMMITMENTS?
Per the Greenhouse Gas (GHG) Protocol, a global standard for GHG emissions accounting, the quantification and disclosure of carbon emissions from scopes 1 and 2 are required, while the inclusion of scope 3 depends on the specific commitment. Each covers a different scope of emissions:
• Scope 1: Direct operational emissions including onsite combustion and mobile sources
• Scope 2: Indirect operational emissions from purchased electricity and steam
• Scope 3: Emissions from upstream and downstream activities that the organization indirectly impacts in its value chain, which are typically the majority of an organization's total emissions
Each carbon commitment's target language also varies from net zero to zero or absolute zero. Net zero indicates carbon neutrality by the target date, whereas zero or absolute zero refers to eliminating all emissions, scopes 1, 2, and 3, without the use of carbon offsets.
Purchasing carbon offsets or credits is a common supplemental strategy to the overall carbon reduction plan, and there are best practices to ensure they have the most impact. When accompanied by longer-term carbon removal credits such as renewable energy credits (RECs), virtual power purchase agreements (VPPA), or biogenic removal projects, offsets are a strong component of decarbonization strategy.
HOW WILL ORGANIZATIONS BE HELD ACCOUNTABLE FOR ACHIEVING THEIR CARBON COMMITMENTS?
Amidst these ambitious targets, there are concerns that some organizations have made commitments without understanding the required effort it will take to deliver on them. While some will inevitably devolve to greenwashing, it's becoming more difficult for organizations to get by with empty promises. Reporting frameworks are requiring increased data transparency on disclosure, necessitating a more data-driven approach to successfully deliver performance. Organizations that adopt enhanced data sharing and monitoring capabilities will be able to streamline their decarbonization efforts while delivering the transparent communication that consumers and investors increasingly demand.
HOW MIGHT NET ZERO CARBON PLANNING APPROACHES DIFFER DEPENDING ON YOUR PORTFOLIO CHARACTERISTICS?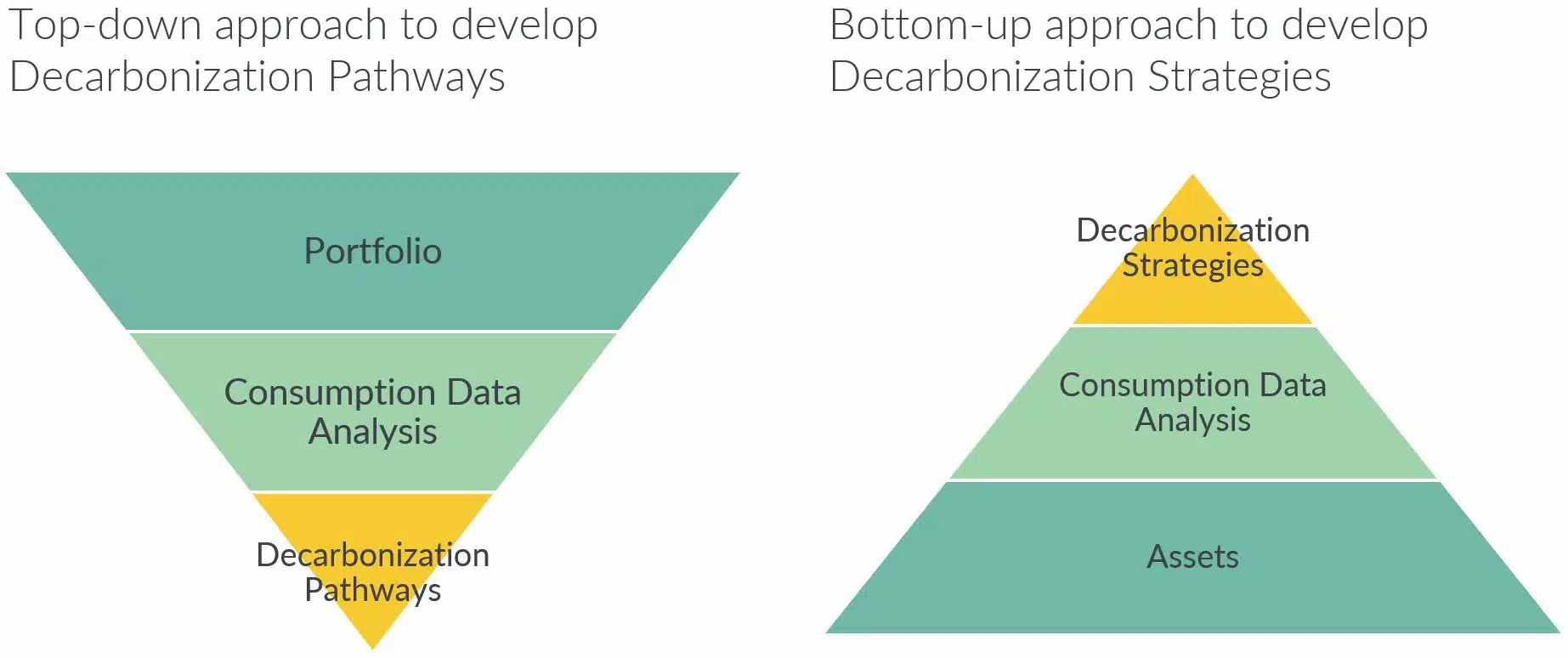 The characteristics of your unique portfolio will inform the most effective approach to forecast the business-as-usual pathway and identify carbon reduction pathways. Regardless of the approach applied, it's important to provide a precursory review of consumption data to understand if there's critical data missing that would affect the approach applied or expected outcomes.
For a portfolio with more frequent asset turnover, a top-down approach may be most applicable. To forecast the business-as-usual pathway (accounting for portfolio growth) and carbon reduction pathways, begin with the total value of assets under management (AUM) across the portfolio. This can be refined down to accommodate the portfolio's specific characteristics such as asset market region and product type (i.e. residential, industrial, education, office).
Conversely, for an owner that holds their assets for years, a detailed bottom-up approach to define the business-as-usual pathway and decarbonization strategies may work best. This approach is also effective for portfolios that have a small number of assets that consume most of their total portfolio energy. Prioritizing the assets that have the highest consumption first within the decarbonization strategies will provide a larger impact on overall portfolio carbon reduction.
Many carbon reduction strategies are similar across organizations, but the order of the strategy implementation varies depending on the portfolio's characteristics, owner's priorities, and level of control. For example, building electrification is a common strategy and identifying the priority assets on which to implement it first is critical to optimize carbon reduction impact. If implemented by an owner whose portfolio remains consistent over years, you will look to replace equipment that uses fossil fuel and is at the end of its useful life across all assets. For an owner whose portfolio changes with more frequency, you could implement this strategy by asset market region starting with the greenest electrical grid, or by product type starting with industrial assets.
HOW CAN COMPANIES STREAMLINE BENCHMARKING SCOPE EMISSIONS AND DEVELOP TAILORED REDUCTION MEASURES?

A "rinse and repeat" process can be applied to each carbon emissions scope (i.e. building asset consumption data, purchased goods and services, waste, embodied carbon). It includes both a planning and an implementation phase and provides a critical feedback loop for maintaining measure performance.
#1: Develop methodology to identify priorities. Developing a flexible methodology that supports the characteristics of the portfolio while streamlining data analysis and ultimately producing impactful measures is key. We developed a methodology to assist a client in prioritizing which assets should be recommended for upgrades first, then built it into an automated weighting system tool that continuously prioritizes assets as high, medium, and low dependent on specific asset characteristics such as energy use intensity (EUI), age of property, year of most recent retrofit, and size.
#2: Gather and review data. Applying this to asset level consumption data, our team categorized asset consumption data as good, better, and best indicating the level of data quality available to us. Every data set will have gaps or constraints, so developing a flexible framework is important. For example, if an asset did not have total building electric data, we either scaled up the data available or used Energy Star Target Finder's median values.
#3: Benchmark performance. At this point, you're ready to quantify the baseline carbon emissions for the specific scope. If refined building system level consumption data is available, performance measures beyond carbon can be used as more specific benchmarks, such as kW/ton or kW/cfm.
#4: Prescribe tailored reduction measures. You can begin prescribing tailored carbon reduction measures prioritizing those with the highest carbon reduction possibilities. The reduction measures should be comprised of long- and short-term strategies and emphasize beginning more challenging measures sooner. This last step in the planning phase typically also generates process improvement tools that can ideally also be used by the portfolio owner to help guide current and future carbon decisions. Stok developed a NZC Owner's Project Requirements (OPR) document with a flexible framework and an asset prioritization tool for the owner's development team to continue updating to inform design and acquisition decisions.
#5: Verify measures against benchmarks. In the implementation phase, measured performance can be verified against the benchmarked performance.
#6: Maintain performance. Finally, and perhaps most importantly, the methodology should be reverified annually to ensure that it still works in achieving the required performance targets.
WHAT ARE KEY FOCAL POINTS TO DEVELOP A SUCCESSFUL NET ZERO CARBON PLAN?
Below include some key focus areas for developing a successful plan from scratch.
#1: Identify client's drivers for achieving target. There are always multiple drivers but understanding which are priorities for achieving a specific target can provide insight into the carbon reduction pathways prescribed and how the measures are implemented.
#2: Plan for future, more stringent legislation. Regardless of whether a portfolio is within one city or across the globe, it's critical to plan and account for more rigorous legislation within your forecasting. When forecasting the carbon reduction measures, it's key to understand if upcoming legislation will increase renewable energy within the region or impose new reductions on a building type.
#3: Identify constraints and gaps in data, quantify impact of those constraints on target timeline, and identify a flexible path forward. Developing a consistent methodology to apply to the entire data set is important.
#4: Determine how the portfolio is anticipated to change over time. Portfolio growth is different for every owner, so understanding whether you intend to hold or sell a specific product type, like acquiring more industrial or R&D instead of office, could have a large impact on the portfolio carbon. Additionally, identifying where this change will occur in the portfolio geographically will have an impact depending on how much renewables are on the electric grid in the region.
#5: Identify timelines for acquiring properties and for new builds. This can impact the specific planning approach applied to develop the decarbonization pathways for the portfolio (see top-down or bottom-up approaches above).
#6: Re-evaluate plan and pathways annually to confirm alignment with goal(s). As targets shift or clarifying data becomes available, it's critical to realign the plan and pathways with the target to ensure delivery.
WHAT ROLE DOES EACH STAKEHOLDER PLAY IN FOSTERING NET ZERO CARBON AS A GOAL?
Everyone is a stakeholder and can help play a role in cultivating NZC as a goal. The graphic above offers example opportunities for various stakeholders to engage in the process to support a NZC goal being achieved. Note that many of the opportunities above have shifted the responsibility to multiple stakeholders acknowledging the need for desiloing responsibility.
New cross-functional partnerships with stakeholders never previously considered are now being seen as necessary to achieve these ambitious goals. Partnerships between cities, occupiers and investors are needed as cities typically set or adopt legislation. Investors and occupiers will need to communicate realistic financials and obstacles to the city to enable the city's goals to be attainable. Additionally, stronger public-private partnerships will streamline the development of more efficient technologies and better building materials.
Thinking on a societal scale, savvy institutions will include more proactive solutions in their plan to reduce carbon emissions that include cross-functional partnerships, a shift in perspective on responsibilities, increased data capabilities, and scalable strategies supported by adequate financing.
SO, WHAT CAN I DO NEXT?
Ultimately, there are economies of scale to reducing carbon across an entire portfolio, and while it's one thing to make a carbon commitment, delivering on the commitment requires a detailed plan with flexible strategies. At Stok, we're continuing to build our expertise to guide portfolio-scale clients on their path to decarbonization and deliver on these challenging commitments and beyond. To discuss your portfolio decarbonization targets with us, get in touch!