A Glassdoor study found that two-thirds of job seekers rate diversity as an important factor of the companies they are evaluating. Furthermore, company transparency is the #1 factor contributing to employee happiness.
As transparency and social justice remain growing priorities for businesses, it's important for companies to consider how they're addressing equity in the workplace. The International Living Future Institute's JUST Program, which serves as a disclosure label for an organization's performance in key workplace social justice categories, can be used as a guiding tool for just that.
In 2019, the International Living Future Institute released JUST 2.0—the first major revamp of the program. This update highlights some of the recent trends in workplace social justice and gives us insight into where the movement is heading. Whether you're applying for a new label, renewing your existing label under JUST 2.0, or just starting to look into how your company can better address social justice at work, consider these key trends from the JUST 2.0 update and what they may mean for your organization.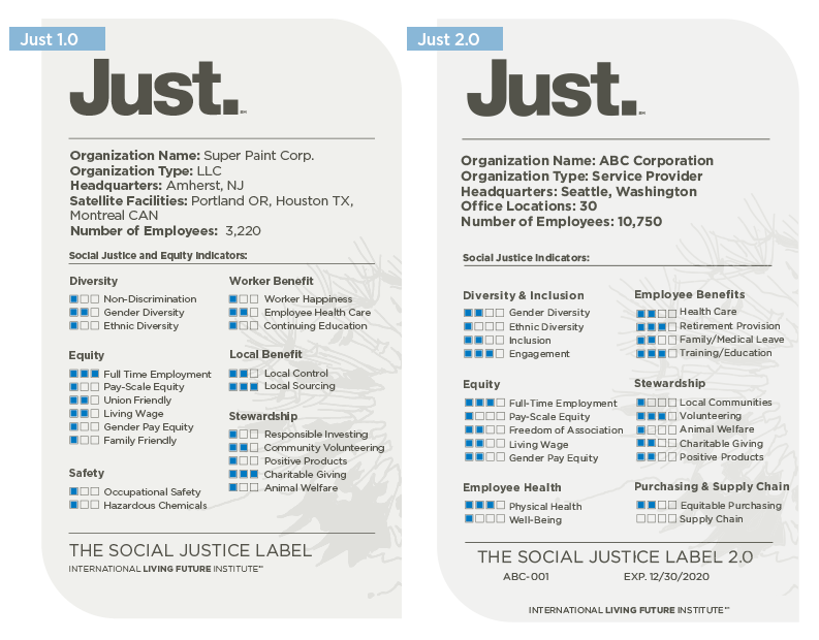 FROM "DO NO HARM" TO "DO MORE GOOD"
As stewards of our planet, humans and businesses alike have an obligation to contribute to the betterment of the earth, not just limit the harm we do to it. From zero carbon to biophilic design, our industry is continually pushing for buildings that actively improve our environments rather than maintain the status quo. Likewise, in social justice, we're seeing a movement beyond doing the bare minimum.
This is obvious in two areas of JUST 2.0:
#1: "Employee Safety" Becomes "Employee Health"
Previous versions of JUST focused on ensuring employee safety. While important, this implies that workplaces are inherently harmful places. Changing this category to focus on employee health acknowledges that workplaces can not just prevent harm, but actively contribute to the health and wellness of their employees' lives.
#2: "Non-Discrimination" Becomes "Inclusion"
It's no longer enough to just not discriminate against people of certain races, ethnicity, genders, or sexual orientations. That implies that discrimination is an acceptable norm. JUST 2.0 encourages businesses to redefine inclusion as the norm, setting a higher baseline for diversity.
BETTER TOGETHER
The JUST Program isn't the only industry tool to measure your company's social justice efforts. B Corp Certification is another common option for organizations looking to track and disclose their performance beyond financials.
One of the most common questions we get about Stok's JUST Label is, "What would you recommend: JUST or B Corp?" You already know our answer: JUST B both! But with limited time and budget, we know that's not always a possibility. This can cause tension and competition amongst similar certification programs. We see the same challenge between building certification systems like LEED, WELL, LBC, and more.
Like those building certifications, JUST 2.0 is starting to bridge the gap by recognizing and integrating other certifications into their program. Now if you're a certified B Corp, you automatically achieve a Level 3 rating in the Positive Products & Services indicator (Level 4 if you're a B Corp Best for the World finalist). And your Fitwel or WELL Building Standard certification translates to points in the Physical Health indicator.
By acknowledging and encouraging other standards and certifications, rather than trying to compete with them, JUST is paving the way for collaboration. We are all working toward the same goal and we can achieve much higher impact if we work with, instead of against, each other.
HOLISTIC HEALTH
Previously, the only mention of employee health in JUST was the Employee Health Care indicator. Just like in our built environment, health and well-being is now a much larger priority. With a whole new category for Employee Health, JUST 2.0 is prioritizing two different factors:
#1: Physical Health Indicator
This focuses on the health and quality of your office environment. This is where you get points for WELL and Fitwel certified workplaces.
#2: Well-Being Indicator
This incentivizes companies to adopt programs that support the mental health of employees—including flexible working arrangements, mindfulness training, and counseling programs. This is reflective of the health landscape expanding recently in the U.S. to include not just physical but also mental, emotional, and psychological health in its definition.
Social justice in the workplace isn't something you can "fix" and move on from. It's a continuous process of listening, learning, and improving to foster a working environment where equity is paramount. Stok first published our JUST label in 2016 and we're thrilled to have a higher set of standards to guide our upcoming renewal efforts. If you have successful strategies or common challenges to share from your organization's efforts, reach out to us. We'd love to learn and grow with you!