Missed the webinar? Watch the recording.
In preparation for the annual release of GRESB results, Stok and GRESB hosted a webinar on how to unpack GRESB results to level up ESG (Environmental, Social, and Governance) programs, featuring Dan Winters, Senior Director at GRESB, Kelly Hagarty, ESG Director at Stok, and Henry Heyman, ESG Manager at Woodbourne Capital Management. Here are eight key takeaways from the experts on GRESB, the ESG benchmark for institutional real estate investors and a framework of global best business practices.
#1: GRESB ENABLES MARKET TRANSFORMATION AS THE ESG DATA HUB
GRESB is the ESG data hub for capital markets. Pulling ESG data from the asset level through frameworks like LEED, ENERGY STAR, and BREEAM, up to asset owners and capital market investors, GRESB provides structured data that's consumable, comparable, and actionable. Enabled through GRESB, these capital markets hold the key for market transformation across ESG factors.
#2: ESG TAKES TIME
ESG requires continuous improvement. As Dan Winters put it, "year one is learning what you don't know, year two is getting organized, year three is getting going, and after that it's all about accelerating and maintaining pace." We see this in cohort after cohort, which are groups that come into the GRESB benchmark in a particular year and sustain their progress over time. We're also seeing cohorts coming into the assessment at a higher baseline year after year, signaling overall ESG improvement across the industry. So don't be discouraged by your first GRESB score; instead, take it as an insightful gap analysis and an opportunity to guide your ongoing improvement in your ESG journey.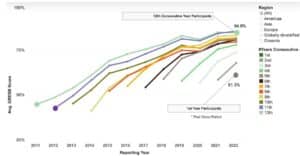 #3: STAY FOCUSED AND STRATEGIC FOR THE GREATEST ESG IMPACT
The ESG landscape is vast, and it can be hard to know what to focus on. When considering what to tackle first, try asking the following questions:
Does this align with my overall business strategy or would implementing this be "paying for points"?
Is there budget for this?
If the budget is limited, is there something else that would be more impactful to focus on?
Can this be done by end of year to improve next year's reporting, or is it a longer-term initiative?
Do my peers care about this? This is where the GRESB Benchmark Report comes in.
#4: TO START, YOU HAVE TO… START
ESG programs, like many business initiatives, compete with inertia: the hardest part is getting started. While standing up a comprehensive ESG program is a daunting task, it's better to start small than to not start at all. Many firms begin by forming an ESG committee, where each department gains an understanding of their role in ESG efforts and has a space to collaborate. ESG cuts across all silos, so working across the entire organization is key. You'll also likely find that many things your organization's already working on are tied to ESG, and you're likely further along than you think.
#5: GET ORGANIZED FOR INCREMENTAL PROGRESS AT ALL LEVELS
Woodbourne first focused programmatically to build a team to lead the company's ESG efforts. In Woodbourne's case, this included various internal personnel from all areas of the business and senior management, as well as specialized consultants, including a dedicated ESG Data Consultant to help Woodbourne understand its property level data for sustainable operations. These roles worked in two areas:
Corporate level: Started with surveys, Diversity, Equity, and Inclusion (DEI) assessments, and setting goals around environmental performance, specifically carbon reduction.
Property level: Split this into two phases of measurement, which came first, and management.
Getting organized in this way helps you keep track of your progress, celebrate the wins, and stay the course on your longer-term ESG strategy. We recommend splitting your initiatives into short- and long-term initiatives at the corporate and property level, like this hypothetical example:
#6: INTEGRATE GRESB INTO YOUR OVERALL STRATEGY
Once you've prioritized strategies from your GRESB gap assessment, it's time to incorporate them into your overall ESG strategy and roadmap. As Kelly Hagarty shared, "It's important to build it into the overall strategy so ESG isn't just a siloed department." Additionally, she noted, "With GRESB, there's a ripple effect; doing one initiative helps you perform better throughout, then we build on each initiative." Creating an action plan with a matrix outlining each ESG topic, initiative, responsible party, timeline, and GRESB alignment will help map out the connections and compounding benefits of each strategy rather than approaching them in siloes.
#7: USE ADDITIONAL TOOLS TO DEMONSTRATE THE VALUE OF ESG
As with most business decisions, ESG leaders within their firms are often asked to demonstrate the value of ESG initiatives, but not all ESG efforts offer easily measurable return on investment. For initiatives that don't lend themselves to definitive scientific measurement (like energy savings from an efficiency retrofit), you might be able to look at results from a materiality assessment to see that all your stakeholders care about a certain initiative, or that a growing number of investors are asking detailed questions about specific initiatives. When you have stakeholders, peers, and investors all asking for something, that signals its importance to the market, with or without a clear ROI.
#8: YOU CAN'T WIN ESG
It's challenging to move past the box-checking exercise in an attempt to "win GRESB". There's a score involved, but you can't win, and focusing only on checking the most boxes doesn't guarantee your ESG program will have the greatest impact. Instead, we collectively win by moving the industry forward.
Reach out to Stok's ESG experts to discuss your organization's ESG goals and progress, and watch the recording of this webinar, now available on demand.